The V-model is a project management model that was first used in the world of industry, before being applied to software development.
The way the process is organised helps avoid needless iterations and having to return to previous steps if any issues come up.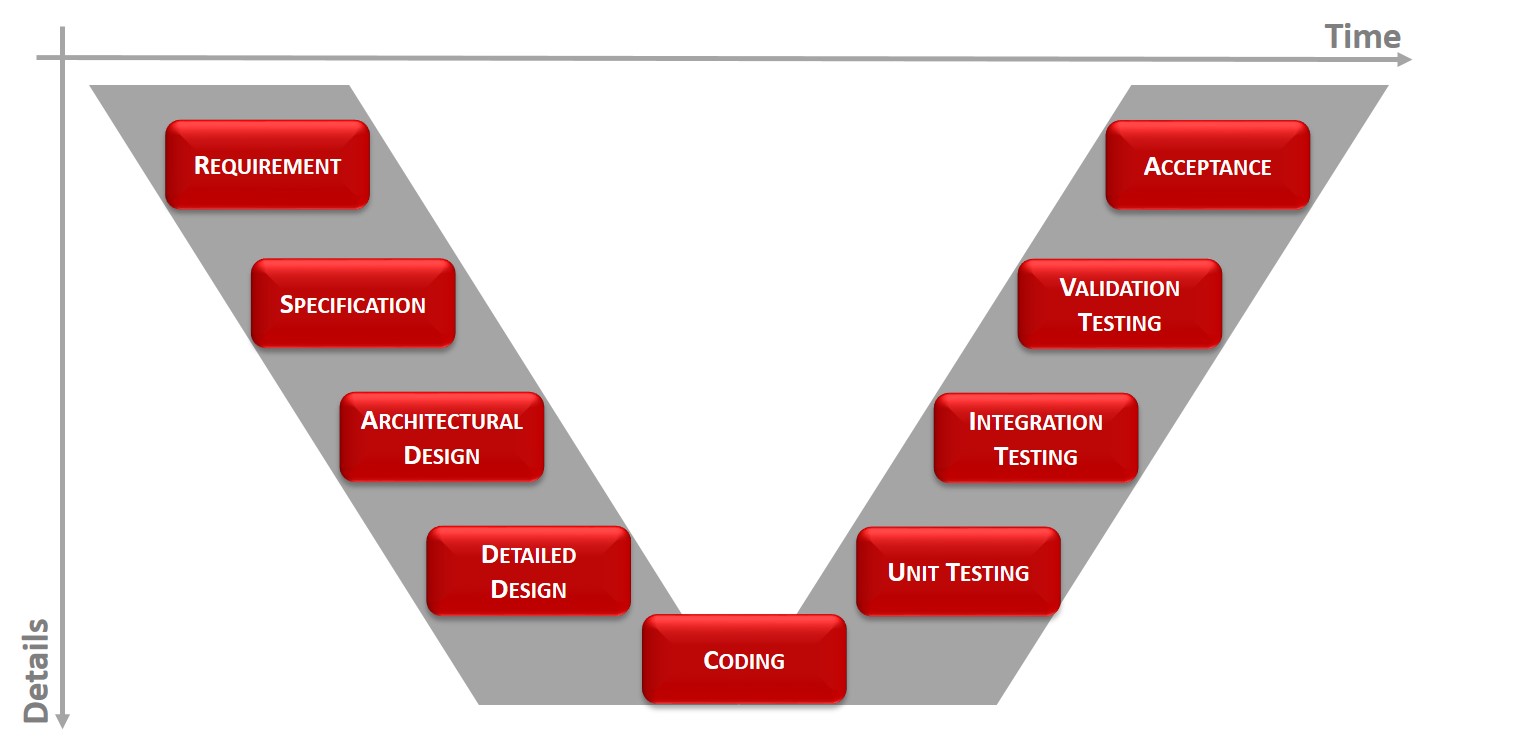 As the diagram above shows, the downwards side of the process includes the design phase, while the upwards side incorporates the testing phase of the project.
This conventional predictive approach is often compared to agile methods.
Integrating complementary expertise
It's important to get all stakeholders involved as early on in the process as possible in order to avoid needless iterations. This is key in defining the product's features from the outset, anticipating development costs and overseeing the project's progress.
Bringing clients into the fold makes them true partners in the study, which allows us to leverage their expertise, in addition to the expertise of engineers, suppliers and toolmakers.
One of AMETRA's advantages is that we can provide a real industrial vision that means we can plan the project as far ahead as possible and facilitate discussion.
In short, it's essential to compare different expertise and specific skills from the very start in order to account for any constraints and cut out iterative loops starting in the product design stage.
FMECA plays a key part
FMECA, or Failure Mode, Effects and Criticality Analysis, is an inductive and systematic approach to identifying potential failures before they occur, in order to mitigate the resulting consequences.
It takes place on different levels: both at the product level and the process level. For example, it may be a question of anticipating product manufacturing risks right from the design stage, and what consequences that would have.
AMETRA uses this method to guarantee a product's features by working to manage risks, productivity, costs and processes.
This approach helps avoid unpleasant or unexpected surprises, based on a failure analysis.
Think about a mechanical pencil, for example : does the lead come out easily? What problems are you likely to encounter, and how can the design be made more reliable?
With FMECA, we identify the potential failures that a means of production or process can encounter, their causes and consequences, as well as actions that can be taken to eliminate these risks or mitigate their impact.
Finally, it's important to remember that some fields, such as the nuclear industry, are subject to strong constraints, such as the RCC-M and Eurocode standards. These andards must be included in the process from the very start.
To learn more about AMETRA's expertise, please visit our official website.
Article by Lionel